About me
About pages are always the hardest, right?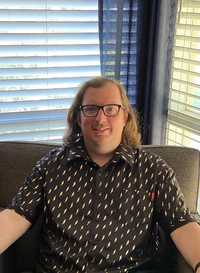 Hi, my name is Waylon Baumgardner, and I'm a product designer, front-end developer who knows enough to be dangerous, design educator, mentor, and amateur violinist (very amateur) from and based out of Southern California. I grew up in San Diego, and now reside somewhere in between San Diego and LA.
I started my professional career as a web developer/designer. I spent ten years in higher education where I held various web development/design/leadership roles. I then shifted the focus of my career entirely to full-time product design roles.
What I believe
I've documented some truths I personally believe in that shape and influence how I work:
Practice empathy; we're all dealing with something
Good ideas can (and do) come from anyone and anywhere
Context, not content, is "king"
UX and UI design require different but complimentary skills
Users sometimes need guidance